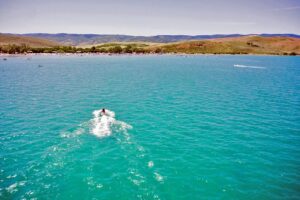 This massive lake is one of the top destinations for beachgoers in Utah. It measures 20 miles long and varies in width but is generally thought of as being eight miles across on average. The lake is a surprisingly deep 208 feet. The park is set at an elevation of nearly 6,000 feet, so the water can be quite cold, especially early in the season.
Miles of beaches line the shore, and finding your own patch of sand is never an issue. Parking is just back from the water, so bring all the gear you think you'll need, as you won't need to carry it far.
Rendezvous Beach is the most popular beach area. The beach is narrow, but stretches for a good distance, with some shade trees in behind. Hot summer weekends create a carnival-type atmosphere, with kids splashing in the water while barbecues give off tantalizing aromas.
Cisco Beach is on the eastern side of the lake. It's less busy and does not have the soft sand of Rendezvous Beach. It drops off quite sharply here and is not recommended for those who are not strong swimmers.
A large marina operates on the lake and provides full services to boaters.